Katy Perry : Quotes and Captions
If you're presenting yourself with confidence, you can pull off pretty much anything.
If you can believe in something great, then you can achieve something great.
You don't have to feel like a waste of space. Your original cannot be replaced.
You held me down, but I got up. Already brushing off the dust.
Using blasphemy as entertainment is as cheap as a comedian telling a fart joke.
I don't need the Prince Charming to have my own happy ending.
I have always been the kid who's asked 'Why?' In my faith, you're just supposed to have faith. But I was always like 'why?'
Acceptance is the key to be… To be truly free.
I wanted to be that quirky girl who writes funny songs that still have meaning.
This is the part of me that you're never gonna ever take away from me.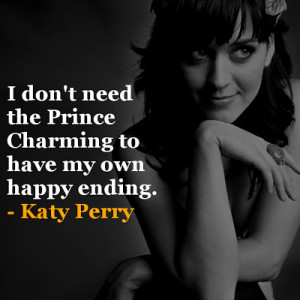 Baby you're a firework, c'mon show 'em what you're worth!
Find out what your gift is and nurture it.
You said move on, where do I go?
Maybe your reason why all the doors are closed, so you can open one that leads you to the perfect road.
Comparisons are easily done once you've had a taste of perfection.
I come from a very non-accepting family, but I'm very accepting.
You change your mind Like a girl changes clothes
Thank you for believing in my weirdness!
Comparisons are easily done, once you've had a taste of perfection
Acceptance is the key to be truly free.